Travel Facts, 33 curious and fun travel topics
Maybe your travel plan is postponed for now, maybe you are actively seeking your next destination, or you are planning the details of your upcoming trip. No matter what your current travel status is, the travel facts that you will find here will spice up your knowledge or perhaps it will inspire you to look for less-known destinations. At the very least you will have fun time while you go through the travel-world of extremes, opposites and interesting travel facts.
1. How Covid-19 helped to break the record for longest commercial flight in 2020?
According to Airfarewatchdog Air Tahiti Nui flight from Papeete (French Polynesia) to Paris with a distance of 9,775 miles or 15 hours and 45 minutes was the longest flight in 2020. It broke the record held by Singapore Airlines which was 9,534 miles from Singapore to Newark (New Jersey).
The aircraft used for the flight was Boeing 787 Dreamliner. Normally the airline had a stopover in Los Angeles, but because of Covid restrictions this was no longer possible. With reduced number of passengers and weight, the aircraft spends less fuel and this made it possible to fly over such a long distance. This flight was an exception and the airline has discontinued the record breaking direct route with a stopover in a different city.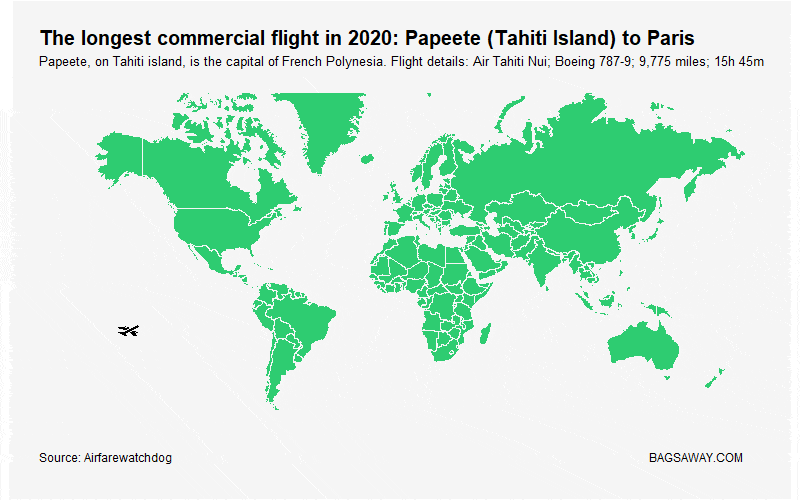 2. The shortest commercial flight in the world is in Scotland.
According to BusinessInsider the shortest commercial flight is between Westray and Papa Westray islands in Scotland.
The airports are 2 miles apart. The flight takes 90 seconds and according to The Points Guy it's a much better transportation alternative than the 20 minutes choppy boat trip from one to the other island.
3. Planning a trip makes you 8% happier.
Scientific study has shown that the intention itself or the plan to go on a holiday makes vacationers to be almost as happy as the trip itself. The study compared vacationers to non-vacationers and the results showed that vacationers had an 8% higher pre-trip happiness score than non-vacationers.
Other studies have also confirmed this psychological phenomenon.
4. The happiest language in the world is Spanish.
Maybe the language that you speak affects you more than you think. A study of the top 10 most used languages globally (English, Mandarin, French, Spanish, Portuguese, Indonesian, German, Korean, Russian and Arabic) showed that Spanish is the happiest language, followed by Portuguese, English, German and French.
Possibly this is one of the reasons why Spain is in the top 10 or top 5 countries globally by life expectancy, and some media are reporting it is well placed to overtake Japan in two decades.
5. FICUS – France, Italy, China, USA and Spain are the top 5 countries that attract most tourists in the world.
The FICUS countries (France, Italy, China, USA and Spain) get the most visitors repeatedly. They are like irresistible travel magnets. France is the most visited country by travelers in the world with 89 million arrivals, according to the latest UNWTO data related to 2018 travel flows. The next most visited countries are Spain, United States, China and Italy. Together with France they comprise the top 5 most visited countries globally.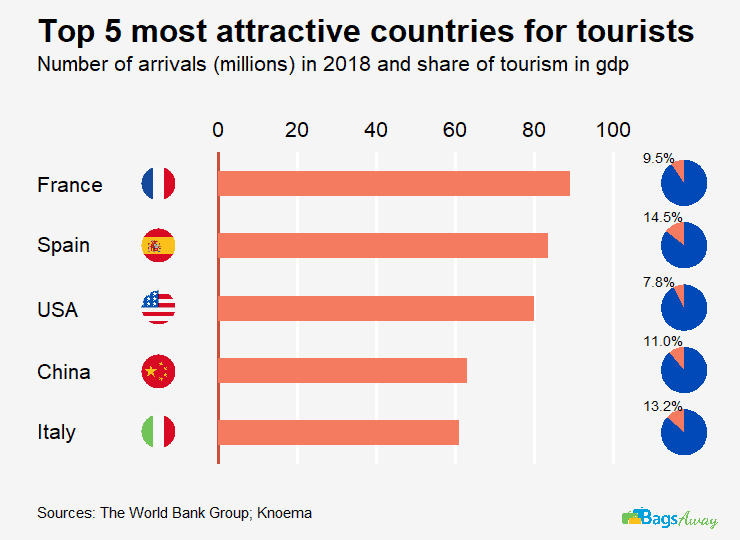 When it comes to cities, Bangkok is the global leader with 22 million international overnight visitors in 2018, followed by Paris, London, Dubai and Singapore making together the top 5 most visited cities globally according to Mastercard's Global Destination Cities Index. Dubai, one of the popular attractions for tourists is the Dubai Marina yacht rental, offering a luxurious experience of exploring the city's coastline.
6. Eiffel Tower's size changes up to 6 inches (15.24 cm) over the seasons.
Eiffel Tower's size increases 15 cm (6 inches) during summer time because the steel structure expands on higher temperatures. A little reminder on physics 😊
7. Hamburg is a city with the most bridges in the world.
Crossing a river or non-walkable path is less of a problem in some cities. Hamburg has more than 2300 bridges, the largest number of bridges in the world. Next is Amsterdam with 1281 bridges, New York City with 789, Pittsburgh with 446 and Venice with 391.
So many bridges sometimes represent a problem.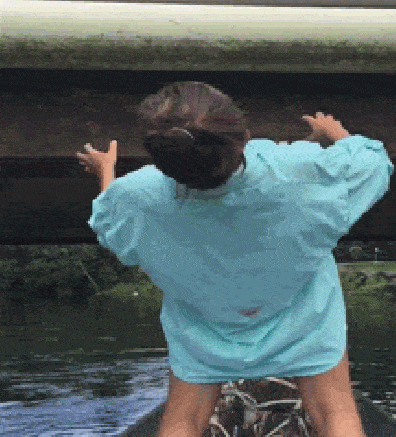 8. Costa Rica is a country with no army.
Costa Rica is one of the few countries globally that has abolished the army and lives without military forces for more than 70 years.
9. Egypt and India are the cheapest countries for a taxi ride. Switzerland is the most expensive.
Egypt is a country with the cheapest taxi ride, it costs less than a dollar to get a three-mile ride. That's a handy travel fact to be aware of when you travel to Egypt. On the other end is Switzerland as a country with the most expensive taxi ride. It costs $25 for a three-mile ride, according to USA Today and Taxi2Airport.
Based on a research by Deutsche Bank, below is a overview of the cost of a taxi ride in selected cities globally.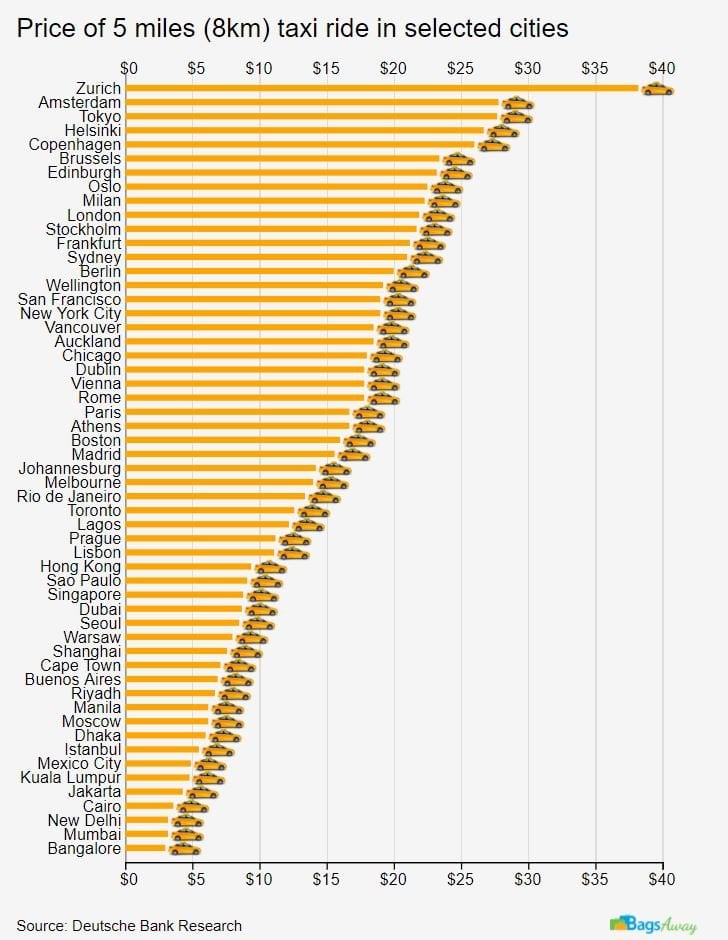 10. The oldest tree in the world has over 4700 years.
According to The Spruce, the oldest tree in the world is nicknamed Methuselah. It's a bristlecone pine tree located in California's White Mountain range. Its estimated age is over 4700 years. It's a non-clonal tree which means it cannot reproduce itself, unlike the clonal trees that have this ability. Big Pharma dreams to replicate the anti-aging secret of living organisms like this.
When it comes to clonal trees the oldest one is Old Tjikko in Sweden. It's roughly 10,000 years old and its trunk survives about 600 years after which a new one sprouts.
11. The tallest tree in the world has a height of 380 ft or 115m.
The tallest tree in the world is located in the Redwood National Park in California. It's called Hyperion and has a height of 380 ft or 115m. It's about one third of the height of Eifel Tower.
12. The biggest pyramid in the world is in Mexico.
Giza and Egypt. Probably this comes on top of your mind when you think about pyramids. But, it's not in Giza.
The biggest pyramid in the world by volume is located in Cholula de Rivadavia, Mexico. Over time, nature did its job and camouflaged it with soil, grass and other vegetation, so it was not easy to spot it and to see what lies beneath the hill at its location. The Great Pyramid of Cholula is only 54 m (177 ft) tall, but with a base four time larger than the Great Pyramid at Giza, having a volume of 166k ft³ (3.3 million m³) compared to the 84k ft³ (2.4 million m³) of the Pyramid of Khufu. According to BBC it's also the largest monument on earth ever built by humans.
13. Sudan has the most pyramids in the world.
According to the Independent, Sudan has more than twice the number of pyramids that Egypt has and therefore it's a country with the most pyramids in the world. It has 255 pyramids, while Egypt has between 118 and 138.
14. It costs $42 to go out on a date in Cairo, while $202 in Zurich.
Going on a date out of your town is not a bad idea. Just collect some travel facts before you do so. According to Deutsche Bank Research of 54 cities globally, Zurich and Oslo are the most expensive cities to go out on a date. A night out with your date in these two cities costs $202 and $163 respectively. Cairo, Bangalore and Buenos Aires are the cheapest ones. If you go on a date there you need to have roughly $42 in your wallet.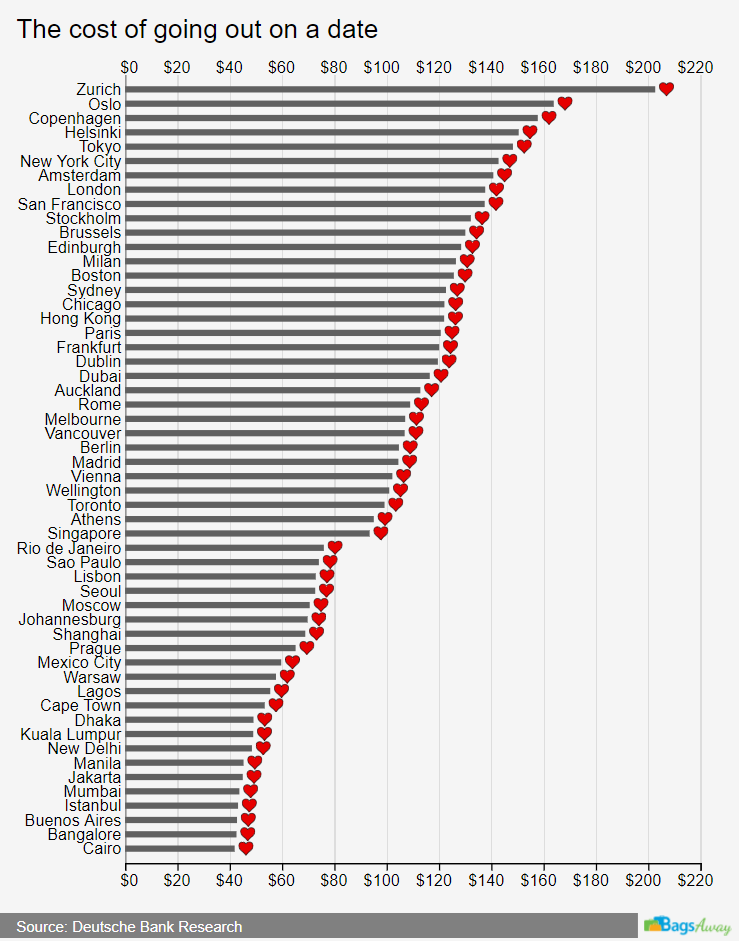 15. The most expensive cappuccino is in Copenhagen, and the cheapest one in Milan.
Have you thought how much your love for coffee may cost you in different cities in the world? Well, a cup of cappuccino in an expat area of a city is most expensive in Copenhagen $6.3, the cheapest one is in Milan $1.7, according to Deutsche Bank Research of 54 cities globally.
16. Iceland is a country with no mosquitos.
Wondering whether you need to pack in your bags a mosquito repellant for your trip? Iceland is one of few countries in the world that doesn't have mosquitos. A convenient advantage for such an interesting destination.
17. France is a country with the most time zones in the world.
You will often see information that France is a country with most time zones, 12 particularly. The reason for this is because France still administers territories placed far away across the world. Otherwise Russia and the USA cover 11 time zones.
18. Machu Picchu's construction design makes it resistant to earthquakes.
Machu Picchu is built in a way that protects it from earthquakes. The stones used to build it are precisely cut and free of mortar. According to USRA it allows the stones to move, but also to come back to the original position after an earthquake. It's one of the few advanced architectural features that Machu Picchu has.
19. The steepest street slope in the world is in New Zealand.
For those a little bit lazy or for those eager to get fit by walking on a steeper slope, the steepest street in the world is Baldwin Street, in Dunedin, New Zealand. The slope of the street is 34.8%.
20. China has thousand times less surnames than the USA.
It's easier to remember surnames in China than in the USA. According to CNN, China has about 6000 surnames in use and 100 of these surnames are common for 86% of the population. In the United States there are 6.3 million surnames, and most of them appear only once.
So if you having trouble to remember names, maybe it's not your brain, but the country.
21. Guangzhou Baiyun International Airport is the busiest airport in the world in 2020.
Guangzhou Baiyun International Airport is the busiest one in the world with 43 million passengers in 2020. The next four busiest are Hartsfield–Jackson Atlanta International Airport with 42 million passengers, Chengdu Shuangliu International Airport with 40 million passengers, Dallas/Fort Worth International Airport with 39 million passengers and Shenzhen Bao'an International Airport with 37 million passengers.
The pandemic brought drastic changes in the 2020 rankings. Because of the steep drop of global travel Hartsfield-Jackson Atlanta International Airport in the United States was dethroned from the top spot that it held for 22 years in a row. According to CNN Travel this change is temporary and the airport will return to the top again as the pandemic dissipates.
22. Kuwait International Airport and Lisbon Portela Airport are the least punctual airports in the world.
According to AirHelp the worst top 10 airports in the world in 2019 based on on-time performance, service quality, and food and shops are:
Airport
Overall score
On-time
performance
Service quality
Food and shops
1
Lisbon Portela Airport
5.77/10
4.7
7.3
7.4
2
Kuwait International Airport
5.78
4.3
8.0
8.0
3
Eindhoven Airport
5.92
4.9
7.8
7.1
4
Henri Coandă International Airport
6.03
6.0
6.1
6.0
5
Malta International Airport
6.05
5.0
7.7
7.5
6
Manchester Airport
6.26
5.2
7.8
8.0
7
Paris Orly Airport
6.37
5.4
7.9
7.8
8
Porto Airport
6.46
5.6
7.9
7.6
9
Billy Bishop Toronto City Airport
6.50
5.8
8.1
7.0
10
London Gatwick Airport
6.62
5.7
8.0
7.9
Top 10 worst airports
Flight delays and poor on-time performance are not just numbers.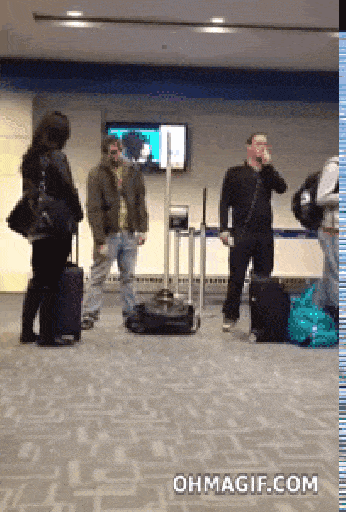 23. Hamad International Airport (Doha) is the best airport in the world.
Being busy does not stop some airports to rank high in performance metrics. Tokyo Haneda Airport (Tokyo International Airport) is an example of that and takes 2nd spot globally.
According to AirHelp the best top 10 airports in 2019 are:
Airport
Overall score
On-time
performance
Service quality
Food and shops
1
Hamad International Airport (Doha)
8.39
8.3
8.5
8.5
2
Tokyo International Airport
8.39
8.4
8.4
8.4
3
Athens International Airport
8.38
8.1
9.0
8.7
4
Afonso Pena International Airport
(Curitiba, Brazil)
8.37
8.4
8.4
8.3
5
Gdańsk Lech Wałęsa Airport
8.35
8.2
8.7
8.5
6
Moscow Sheremetyevo International
Airport
8.35
8.5
8.1
8.0
7
Singapore Changi Airport
8.27
7.8
9.2
8.7
8
Hyderabad Rajiv Gandhi International
Airport (Hyderabad, India)
8.27
7.8
9.0
8.8
9
Tenerife North Airport
8.26
8.2
8.4
8.2
10
Viracopos/Campinas International Airport
(Campinas, Brazil)
8.25
8.4
8.2
7.9
Top 10 best airports
24. France has highest number of Michelin-starred restaurants.
If you are on search for quality restaurants, according to FineDiningLovers, France has the highest number of 628 Michelin-starred restaurants. Next is Japan with 577, Italy with 374, Germany with 307 and USA with 169 Michelin-starred restaurants.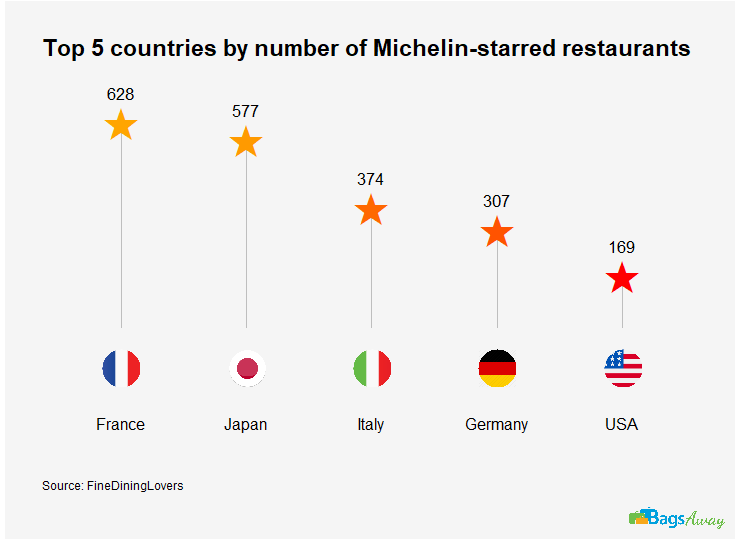 25. The fastest roller coaster in the world will be opened in 2023 in Saudi Arabia.
If you need excitement, adrenaline and dopamine rush, you can get all of that with the "Falcon's Flight" roller coaster in Saudi Arabia. According to CNN Travel, the "Falcon's Flight" roller coaster's construction should be finished in 2023. It will have a record-breaking speed of more than 155 miles per hour (250+ km/h) and record-breaking height of 525 feet (160 meters).
26. The so-called "Spanish Flu" actually came from France, China or Britain.
Although the name suggests that the Spanish Flu who took the lives of 20 to 50 million spread to the world out of Spain, in fact, according to History.com, it is more likely that it started from France, China or Britain.
The reason why the name "Spanish Flu" got traction is because the occurrence of the pandemic overlapped with the First World War. While most countries were either taking one side of the two embattled sides, Spain was one of the rare that remained neutral. This allowed the country to have free speech and journalism unrestricted from censorship, unlike the embattled countries.
Spain provided detailed reports on the devastation caused by the influenza virus and the general public around the world got the impression that Spain was the original place of the virus. That's how it got the label.
27. Big Ben is not the clock, but the bell on top of St. Stephen's Tower.
Most people associate Big Ben with the clock on St. Stephen's Tower in London. In fact the name belongs to the thirteen ton bell on the top of the tower, according to Hotels.com.
28. What is the origin of the name of pizza Margherita?
Naples (Italy), is the birthplace of the some of the most popular pizzas that we know. There is a big chance that you have eaten Margherita pizza in your life, or you are going to eat one sometime in your life, especially if you travel to Italy.
Have you thought how Margherita pizza got its name? Diego Zancani, emeritus professor of medieval and modern languages at Oxford University, explains that after the unification of the northern and southern Italy, King Umberto I and Queen Margarita visited a well-known pizzamaker in Naples in 1889. They were offered three pizza choices. Queen Margarita decided to order the one with basil, mozzarella, and tomato because it matched the colors of the flag of Italy. It was a very convenient choice in that moment of time.
According to Huffpost, there is a second theory which says that this pizza got its name because the basil and mozzarella on the top of the pizza resemble the daisy flower, whose name is margherita in Italian language.
29. South Africa has three capital cities.
South Africa is exceptional. It's the only country that has three capital cities. Cape Town holds the legislative function and it's the place of South Africa's parliament. Pretoria is the home of the government with the executive function, and Bloemfontein has judicial function. The reasons for this type of set up are mainly political and historical.
It's not only the administrative set up of the country. South Africa's nature and landscape is very diverse too and can match your preferences for different types of holiday.
30. Dirtiest place on airplanes is the tray table.
According to CNN Travel, the dirtiest place on airplanes is the tray table, followed by drinking fountain buttons, overhead air vents, lavatory flush buttons, seatbelt buckles, bathroom stall locks. The amount of colony-forming units per square inch (concentration of microorganisms) is shown in the chart below.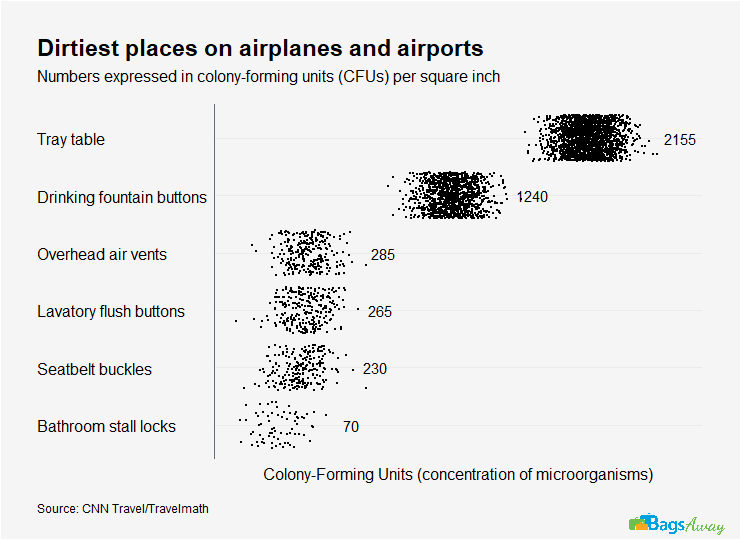 31. Finland is the happiest country in the world.
The next of the list comprising the top 10 happiest countries in the world are: Denmark, Switzerland, Iceland, Norway, Netherlands, Sweden, New Zealand, Austria and Luxembourg.
32. The first space hotel in Earth's orbit will be opened in 2027.
The hotel will have a shape of a wheel. Its rotation should create artificial gravity. The gravitational power will be weaker and closer in strength to the one on the moon. Apart from the spectacular view and design, the lack of gravity will create a totally new experience, feeling and sense.
33. Trevi Fountain in Rome has exceptional return on investment (ROI) of $1.7 million per year.
The 18th century baroque style Trevi Fountain in Rome took about 30 years to be built. According to DW, $1.7 million are collected annually from the coins tossed into the fountain.
Usually the coins are donated to a charitable organization Caritas. According to DW, because of the substantial amount of money collected from this monument, recently the Italian government initiated a proposal to put part of the funds to go into local infrastructure development projects. This proposal heated the debate of how the money should be spent properly.
Despite this ongoing discussion and yet probably reduced amount of tossed and collected coins because of Covid, the fountain remains a promising revenue generator for the city of Rome in normal times.
The tradition says that if you toss one coin you will return to Rome again, if you toss two coins you will get married, and if you do it three times you will marry a Roman.
Why toss three coins? Beside the desire to marry a Roman :), perhaps the fountain name has something to do with it. Trevi means "three roads", signifying the three roads intersecting at the fountain's location in the past.
Can you imagine what would have been the ROI if Trevi Fountain was intersecting four roads?
Concluding thoughts
Some of the travel facts above are fun, some are practical, some remarkable and some curious. If you ended up having a little bit more travel related knowledge let us know in the comments section or you can share your favorite travel fact on your blog or social media.
For additional interesting travel facts you can go to our 106 travel innovations article.
Stick around for more from us.