Where can I store luggage in Miami?
Late sizzling summer nights, white-sandy beaches, and culinary delights - Miami is a vibrant city that never fails to bring the heat! Dominated by Latin vibes, edgy art, and glamorous nightlife, this city needs no introduction, BUT you will need a safe spot for your luggage to properly experience this town from A-Z. Sun-rays, pool-parties, and the magical Miami skyline along Ocean Drive are just a drop in the crystal blue waters of what this sunny destination has to offer. Don't compromise a moment on account of your luggage, leave it with BagsAway, your 21st century alternative to storage lockers on your Miami trip. Hop on the sharing-economy express with BagsAway's Bag-Drop locations across the city and soak up the best Miami has to offer without luggage in the way.
How it Works
Our mission is to free your time, so you can travel more & carry less!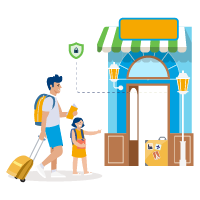 Find the closest storage location & book storage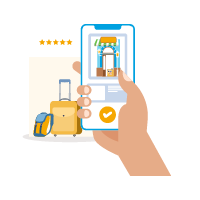 Store your bags at verified hotels and coffee shops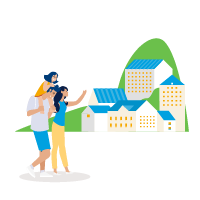 Save time & enjoy your day!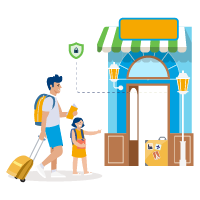 Find the closest storage location & book storage
Bag storage in Miami with BagsAway
BagsAway is your Airbnb-style bag storage companion on the go! BagsAway uses a technology-forward approach to connect you with convenient Bag-Drop locations right inside Miami's very own local shops, cafes, and hotels (to name a few!) who will store your luggage in Miami from a few hours to a few days. Drop your bags on-demand with BagsAway's luggage storage network in Miami.
Need to store luggage in Miami?
You probably found yourself in one of these scenarios Getting on or getting off a Cruise in Miami with hours to spare to explore Before check-in and after checkout from your Airbnb or hotel accommodations in Miami Traveling to Miami for work and hoping to get a few hours of fun between meetings Attending a Miami Heat game at American Airlines Arena or a concert at Olympia Theater but can't bring your bags along Went on a shopping spree at Bayside Marketplace but still want to squeeze in some beachside chills before your flight
How to store luggage in Miami with BagsAway?
Browse our interactive map to find luggage storage in Miami or just click to find luggage storage near me wherever you are in the city Choose and book a Bag-Drop storage location and receive details and directions via email Enjoy a luggage-free day in gorgeous Miami :) Important: Upon arrival present your email booking confirmation on location, it's your receipt!
How much does it cost to store your luggage in Miami with BagsAway?
Pricing
Why Store Luggage With BagsAway
Guaranteed Security
Free insurance included up to $1200 / order
No Size Limits
No restrictions, store everything!
Long-term Storage
Up to 60% discount on longer term bookings
24/7 Customer Support
E-mail, chat, or call us anytime!
Free Cancellation
Cancel anytime before your check-in date
Pricing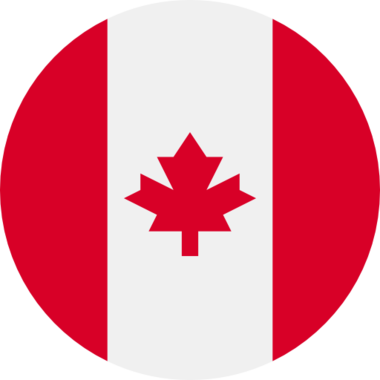 From:
$1.5/hr or $7.95/day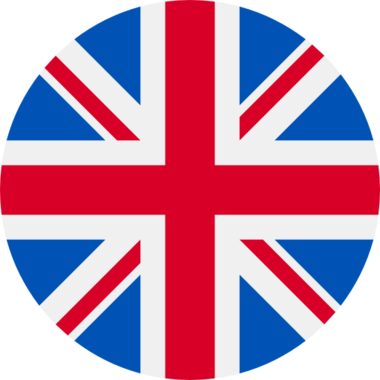 From:
£1.5/hr or £5.95/day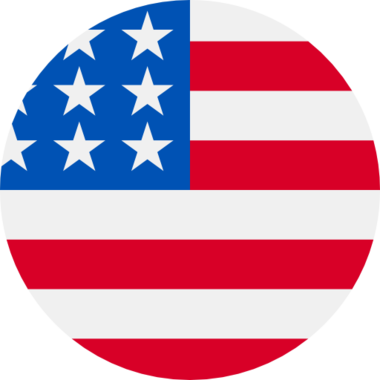 From:
$1.5/hr or $5.95/day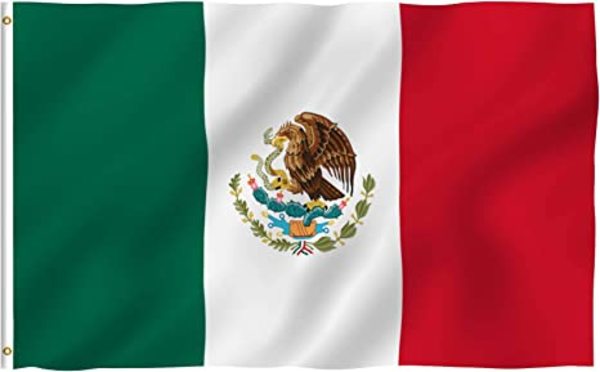 From:
$1.5/hr or $5.0/day
Top Miami luggage storage locations with BagsAway
Where to store luggage in Miami with BagsAway?
From the palm-tree sprinkled beaches to the open-air malls of Downtown Miami, all the way to Wynwood's Art murals and Miami's cruise ports, BagsAway's luggage storage Miami network always has a Bag-Drop spot to instantaneously hold your things, ensuring you are never held back by stuff at this vacation oasis. Our affordable short-term storage and long-term storage options guarantee you are never limited by your shopping bags, souvenirs, or heavy luggage! BagsAway's luggage storage locations are ever prepared to welcome you and your things so you can make each moment of the sunshine count. So if you didn't plan ahead and now you're trying to find luggage storage in Miami, check out our most popular locations below. A break from your luggage is just a few clicks away!
Luggage storage Downtown Miami
Although Miami is a seaside destination, it holds its own against other world-class Metropolis as an urban center. The heart of downtown Miami is filled with shopping, museums, art galleries, fine dining, and entertainment venues, all easily accessible on foot, providing you're not dragging luggage along that is. Miami's DT port offers a variety of activities to fill your day, including watersports, day sightseeing or party cruises. Drop your things with a nearby Bag-Drop location and check out these awesome nearby attractions: Biscayne Bay Cruise - sail on a cruise around Biscayne Bay and see the spectacular coastal Homes of the Rich and Famous and of course the impressive panoramic views of downtown Miami skyline, including the Port of Miami, Fisher Island. Bayfront Park - this urban park is a great spot to start the day with free yoga or just relax and watch the sailboats glide across the waters. If you're in the mood to shop or dine, Bayside Marketplace is the place to be! If you're looking to have a fun hop on one of the party boats abroad a DJ and drinks to keep you dancing and sweating the afternoon away. Rooftop bars are a great way to experience the nightlife and the iconic views of DT Miami. Lounge, sip on cocktails, and savor delicious seafood dishes at the stylish Area 31 rooftop bar and resto, located on the 16th-floor patio of the Kimpton EPIC Hotel. Alternatively, check out Miami's one and only Skybar located at the Langford Hotel on 1st Street. The modern-chic decor and bespoke cocktails at The Bloom Skybar set against the backdrop of the city at sunset is a memory to last a lifetime. Weekend brunches, weekend resident DJ's and happy hour specials await! Check out Miami Heat score an epic shot at an NBA game or catch an epic concert at the American Airlines Arena Little Havana - transport yourself across the sea straight to Cuba! Calle Ocho is the beating heart of Little Havana, which comes packed full of Cuban flavors, figures, and Latin sounds.
Luggage storage in Miami airport
Are you flying into Miami for spring break and need a place to leave your bags before check-in so you can head straight to the beach? Or perhaps you have an early checkout and want to end your Miami trip with a banging afternoon at the infamous Nikki Beach Club? You could leave your bags at Miami international airport but why waste time dropping off or retrieving your luggage in the middle of the day? Eliminate needless back and forth logistics and find a nearby BagsAway luggage storage Bag-Drop inside a local souvenir store or coffee shop near your final destination instead. Bienvenida a Miami luggage free!
Find a BagsAway BagDrop luggage storage location near Miami beach
Luggage storage at Miami Port
Wondering what to do with your luggage before boarding a cruise out of Miami? Or perhaps you just docked after a fabulous Bahamas cruise and wondering where to leave your bags for a few hours before your flight? Don't drag your auntie's souvenirs to the beach, make use of the limited time without the weight of your luggage. Book secure and insured storage with one of BagsAway's locations across Miami.
Find a BagsAway BagDrop luggage storage location near Miami beach
Luggage storage at Miami beach
Soak up the sun, go for a dip, and get your tan on the shores of these world-famous beaches. It's a perfect R R destination that's synonymous with party and fun, not to mention some unforgettable dining experiences, all best served free of luggage of course. Miami Beach Restaurants Art Deco pastel buildings circa 1930's house some of Miami's top restaurants. Try Mango's Tropical Café dinner and show where it's always Brazilian Carnival or Joe's Stone Crab, a Florida staple for over 100 years or better yet try some authentic seafood paella at Tapas y Tintos on Espanola Way. Stay for after-dinner drinks to catch a Flamenco dance party that will knock your socks off. Historic Art Deco District tour Select a convenient BagsAway's luggage storage location around Miami beach to get a proper sightseeing tour of the 800+ architectural landmarks on foot or bike. Stroll through history dating back to the 1920s and catch a glimpse, or better yet a tour of the Gianni Versace mansion turned boutique hotel The Villa Casa Casuarina and the infamous steps upon he met his ultimate demise. Take a boat tour Drop your bags on dry land and hop on one of the many tours on the Miami waterways. Everglades National Park - If you want to try a change of pace away from the glam, get your pulse pumping. Get up close and personal with the crocs, alligators, snakes, and hoards of birds across these swamps. Get double the adrenaline aboard a high-speed airboat ride. Miami to Key West Day Trip Miami boat tour - take in views of Miami only seen cruising the canals. Try a speedboat cruise for the adventure seekers or cruise the waterways on private or semi-private tours of the Bay, the Miami skyline, and the homes of the rich and famous on the nearby islands.
Find a BagsAway BagDrop luggage storage location near Miami beach
Luggage storage at Miami South beach
The most notable and ever-popular part of Miami Beach, South Beach is always bringing the heat! This party destination is not luggage-friendly so go minimalist and drop off your bags at a BagsAway Bag-Drop location on the strip. Don a skimpy bikini and your most outrageous pair of heels and head over to one of the many pool parties on this epic party scene. Flocks of tourists and a local or two come equipped with a bucket of daiquiri and a mandatory umbrella to get into the party spirit. Rooftop parties, side pool chills, and picturesque oasis pools adorn the strip. Some honorable mentions include the LIV at the Miami signature Fontainebleau, 1 Hotel South Beach Rooftop, and Hyde Beach at the SLS Hotel. Make sure to take a proper lap along Ocean Drive, running along the beachfront from Miami Beach and through the sizzling white sands of South Beach.
Luggage Storage Bayside Miami Marketplace
This lovely waterfront marketplace that easily doubles as an open-air style mall comes packed with specialty shops, boutiques, cafes, and specialty restaurants. Vibrant daily live music performances adorn this scenic palm-tree lined space. Drop your bags at one of BagsAway's luggage storage locations downtown Miami and spend the day shopping, dining, and chillaxing by views of the marina.
Find a BagsAway BagDrop luggage storage location near Bayside Marketplace
Luggage storage Wynwood
Wynwood is a sanctuary for art and creativity. From traditional art galleries to graffiti and Street Art, it boasts the highest concentration of street art in all of the US! Drop your bags with one of BagsAway's Bag-Drop spots and strike a pose against a jaw-dropping backdrop. If you're hunting for an Insta worthy background you have plenty to choose from as Artists from all over the world contribute larger than life murals that decorate Wynwood with pieces that stretch the boundaries of imagination. Whatever you do, don't stretch your muscles lugging heavy bags around this artsy neighborhood, let one of BagsAway's convenient storage locations do the heavy lifting. Head over to The Wynwood Walls to see one of the world's most impressive collections of street art in the form of a free outdoor art museum. Roam and gaze upon mega wall murals without your luggage distracting you from the artistic experiences awaiting behind every corner. I'll take the opportunity to share my own experience. One rainy afternoon in Miami, my friend and I decided to head over to Wynwood. This turned out to be a captivating experience I highly recommend! Roaming the street art and one-of-a-kind shops and galleries is a feast of the eyes and mind. My personal favorite mural is the #FreeLolita, which blurs the boundaries between the sky and sea in this truly magnificent piece from the Big Wall Big Dreams street art exhibit curated by Up Art Studio. (Insert my pic: Ira Wynwood wall ar insta pic). One fun way to experience the Wynwood Graffiti after dropping your luggage with a local bar or shop is the Cycle Party Bar Crawl. Free your hands from your bags and grab a drink or three instead! The Eduardo Lira Art Gallery is worthy of a mention with a uniquely curated collection of contemporary art pieces and installations, live performances, and events.
Find a BagsAway BagDrop luggage storage location near Wynwood
Why choose BagsAway luggage storage in Miami?
BagsAway luggage storage locations in Miami Every Bag-Drop Location is carefully selected approved according to strict security guidelines Safe secure luggage storage Every bag is sealed, tagged securely locked away Insured luggage storage Every item is insured for loss, damage, or theft so you can go about your day worry-free! App-free booking Our mobile-optimized website gives you the app experience without the app so you don't have to worry about adding another app for the collection. No plans? No problem! Not sure where the day is headed? No worries! Book your storage in real-time, make changes on the go or cancel your storage altogether before your scheduled luggage deposit at NO COST! Superior Customer Experience Our customer experience team is eager to assist with your storage needs! Connect toll-free at 1-844-647-2247, catch us on our live webchat Numerous Luggage Storage Locations We have several Bag-Drop locations around Miami to make sure your temporary storage needs are met! Trouble-free luggage deposit pick-up Once you completed your storage booking simply present your confirmation at the Bag-Drop location to deposit your bag. The staff on-location will be waiting for you so you'll be in and out! Low-cost storage rates For your convenience, BagsAway offers low hourly, daily and overnight luggage storage rates starting at $1 / hour Discounts promotions Subscribe and follow our social media for discounts and special offers! Storing long term? (week+) Use "BagsAwayHoliday30" promo code for a 30% discount! So what are you waiting for?! Join the sharing-economy revolution with BagsAway's on-demand local storage BagDrop locations!
Other luggage storage options in Miami
Luggage storage in Miami International airport
Miami Airport baggage storage facilities are managed by Communitel Baggage Storage. You can also get yourself a great priced SIM card, take a fresh passport photo and buy a various bag related merchandise on location. Location: Terminal E on the 2nd Level Storage rates: daily rates range from $6-$19 depending on the size of the item Open everyday 5am - 9pm For more information on rates and hours, you can call the facility at 305-869-1163 or shoot them an email instead. You can also refer to the
MIA Website
.
Is there luggage storage at port of Miami?
There are no dedicated luggage storage facilities offered at the Miami Cruise Port due to security regulations and liability concerns as mentioned on the
PortMiami Website
. You can, however, try calling your cruise line to check for the earliest possible baggage check-in or for luggage forwarding options. Another possible solution to consider is the Ship to Shore Program offered by Big Bus Miami. You can get a package price that includes a pick-up at your cruise terminal, luggage storage, full access to all their hop-on-hop-off bus routes, and transfer to MIA or Fort Lauderdale Airport. As of 2020, the following cruise lines are currently participating in this program: Disney Cruise Line, Oceania Cruises, MSC Cruises, and Regent Cruises. We suggest you contact your cruise line directly to make a reservation. Flyfiz also offers delivery services from Miami cruise port to MIA and Fort Lauderdale airport. Same day service in Miami will cost $28 for the first 2 pieces of luggage and $9 for each additional bag. Oversized items like bikes and surfboards are a $28 flat fee. BagsAway's luggage storage locations near Miami's cruise ports are no doubt your best luggage storage option nearby. With guaranteed real-time booking and low hourly and daily rates, you won't need to compromise your time and spend added dollars to make the most of your precious time in beautiful Miami.
Book a BagsAway luggage storage Bag-Drop location near Miami port
Luggage storage Miami South beach
Partygoers, sunbathers, and spring breakers will be on the lookout luggage storage options at this Miami hotspot. Besides the obvious choice - BagsAway's convenient and insured luggage storage locations, there are a couple of other options to consider Luggage Lounge Address: 235 9th St, Miami Beach, FL 33139, United States (South Beach Between Collins and Washington Avenues Storage rates: Personal items $5 Carry-ons $8 Checked bags $10 XL Bags $12+ For more information refer to the
Website
. South Beach Luggage Storage Address: 1300 Collins Ave, Miami Beach, FL 33139, United States Hours: every day 9 am - 8 pm To get a quote or more info
refer to the website.
Book a BagsAway luggage storage Bag-Drop location near South Beach instead!
Luggage storage in Miami's Museums